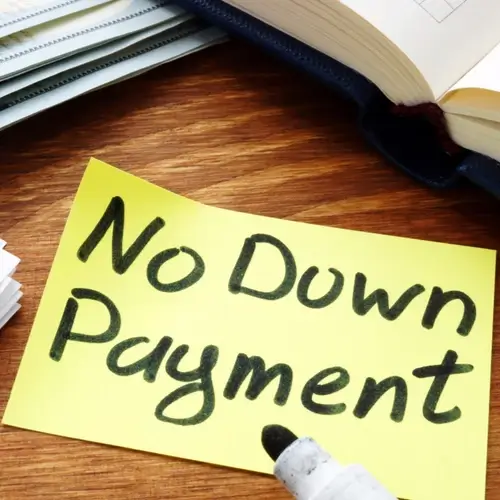 U.S. home prices are higher than ever, interest rates are rising, and inflation is at 40-year highs. These factors combined can make it very difficult for potential home buyers to save up money fast enough to keep up with the housing market. There are mortgages that offer low down payment requirements, but even those can be prohibitive to some first-time buyers. You may have heard of "no down payment" loans, but are those really an option in today's hot market?
What is a Down Payment?
When you apply for a mortgage loan, lenders traditionally expect a down payment, or upfront contribution, to make sure you as a borrower have "skin in the game." If you put in some of your own hard-saved money at the beginning, lenders have found that you are less likely to default on the mortgage down the road.  A traditional down payment is 20% of the loan amount, enough so that lenders could recoup their loan origination fees if you fell into foreclosure. 
No-Down Payment Loans
Even in today's fast-selling housing climate, there are still ways to buy a home without a down payment. If you can meet the requirements, a government-backed VA or USDA loan does not require money down. These are loans made by private lenders but with the guarantee of government agencies. This gives lenders the confidence to make such loans, knowing the federal government will repay them for any losses.
VA loans are available for active-duty military, veterans, and surviving spouses. These mortgages are sponsored by the Department of Veterans Affairs and although you won't have to make a down payment, you will have to pay a one-time funding fee of 3.6% of the loan amount. For example, if you are buying a $300,000 home, you would need to pay $10,800. Many lenders allow borrowers to roll this cost into their loan total, making it easier to pay over time. Just remember that you will be paying interest on the funding fee in this setup, costing you more money in the long run.
A USDA loan is backed by the U.S. Department of Agriculture. They are designed to encourage people to buy homes in rural areas, but their definition of "rural" is very broad and you may be able to find a suburban property that qualifies. To qualify, the house must be a single-family unit and the property cannot be a working farm. You will need to use the home as your primary residence and have a gross household income 115% below the county's median income. Your credit score also needs to be above 640 and your debt-to-income must be below 45%. If you can meet all those requirements though, USDA loans usually come with lower fees than other mortgages.
Down Payment Assistance Programs
If you do not qualify for VA or USDA loans, you can look into a down payment assistance program. These are grants and programs sponsored by government agencies and non-profit organizations to help low-income borrowers become homeowners. These include DPA grants, DPA loans, and the Good Neighbor Next Door program, among others. Your lender can point you in the direction of a grant or program that might fit your needs. 
While it may require more legwork or creativity, you can still find ways in today's housing market to buy a home with no down payment.
Give us a call today so that we can discuss how to purchase a new home with little or no money down.
These materials are not from HUD, VA, or FHA and were not approved by HUD or any other government agency.