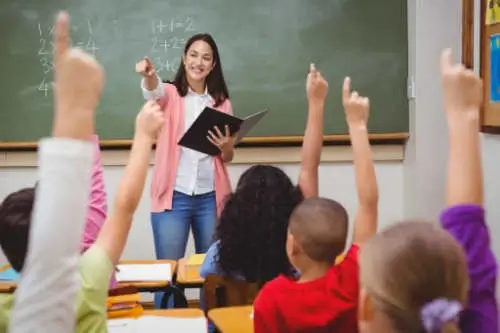 Public school teachers are in high demand right now. A recent study estimates that there are 36,000 open teacher positions across the U.S. right now. Perhaps the rising teacher shortage is due to the extra stresses placed on educators because of the COVID-19 pandemic. Low wages are certainly a factor as well. Our nation depends on these wonderful public servants to educate our future workforces, and we need their valuable talents.
To encourage more caring instructors to join the ranks, the U.S. government and many private companies have programs in place to help teachers financially, including some that make becoming homebuyers easier. If you are a teacher or thinking of becoming one, consider the following options that could lift you over the homeownership hurdles you might face.
Good Neighbor Next Door (GNND)
The GNND is financed by the U.S. Department of Housing and Urban Development (HUD) as a way to help teachers and first responders buy homes in communities that need revitalization. Qualified borrowers can buy HUD homes for as little as 50% of the listing price. The requirements include purchasing a home in the same revitalization area where the teacher works and a 3-year commitment to live in the home as a primary residence.
The Teacher Next Door (TND)
Sponsored by a private agency, the TND program connects pre-K – 12th-grade and other public servants with housing assistance plans. They directly offer free grants that never need to be repaid up to $8,000 in some areas and up to $10,681 that can be used for down payments. While borrowers must work with TND agents and use its lending network, it can provide teachers with low interest rates, discounts on title insurance, rebates on appraisals and real estate agent fees, as well as waivers on application and broker fees. All of that can add up to some major savings. Plus, the TND can be combined for even greater benefits with first-time homebuyer programs like Fannie Mae's HomeReady, Freddie Mac's Home Possible, or the Good Neighbor Next Door.
Homes for Heroes®
This program specifically helps reduce fees and closing costs for teachers and other civil servants in order to make home buying more affordable. Homes for Heroes can also be combined with other housing assistance programs.
Teachers Union Assistance
If you are part of a teacher's union, it might offer special mortgage programs or discounts. For example, eligible members of the American Federation of Teachers (AFT) can get loans through either Union Plus Mortgage Company or Amalgamated Bank to get discounts on fees, rebates on closing costs, and a first-time home buyer that allows for down payments to come exclusively from gifts or grants.
For those who are a part of the National Education Association (NEA), a program through the First National Bank of Omaha allows borrowers to pay no application processing, or origination fees. 
State and Local Teaching Assistance 
There are hundreds of state or county programs that help teachers become homeowners. For example, the Mississippi Employer-Assisted Housing Teacher Program gives teachers working in underserved areas of the state up to $6,000 for closing costs. You can check with your lender or state and local websites to see what options are available.
While a teacher's salary may make it seem impossible to realize the dream of homeownership, there are plenty of gifts, grants, and programs out there to help our valued educators afford the experience.
If you or someone you know would like to buy a home, please give us a call today. We love to help others achieve the American dream of homeownership.
These materials are not from HUD or FHA and were not approved by HUD or a government agency.